It also applies to vaccines, the only reason they wanted us and the rest of the world to work on vaccines is because they can't even make their own one despite keeping all of the details secret.
Once we build something the Chinese take it, change it slightly and claim it was their invention then use their slave trade to manufacture in the thousands/millions.
Shocked that the BBC would even report it, even more shocked that Sky News have an article titled "China deploys jets and bombers into Taiwanese airspace in 'biggest incursion to date'" and it's all the way down the page knowing no one will pick up on it.
China's top disease control official has said the efficacy of the country's Covid vaccines is low, in a rare admission of weakness.

In a press conference, Gao Fu added that China was considering mixing vaccines as a way of boosting efficacy.

China has developed four different vaccines approved for public use, though some trials abroad had suggested efficacy as low as 50%.

Mr Gao later said his comments had been misinterpreted.

More than 100 million people in China have received at least one shot of the vaccine.

Beijing has insisted the jabs are effective and said in March that obtaining visas would be easier for foreigners who have received a Chinese vaccine.

What did Mr Gao say?

Gao Fu, head of the Chinese Centres for Disease Control and Prevention, on Saturday said at a conference the current vaccines "don't have very high rates of protection".

He suggested that the China was considering mixing Covid-19 vaccines, as a way of boosting efficacy.

Mr Gao explained that steps to "optimise" the vaccine process could include changing the number of doses and the length of time. He also suggested combining different vaccines for the immunisation process.

But he later appeared to backtrack on his comments, telling state media Global Times that "protection rates of all vaccines in the world are sometimes high, and sometimes low".

"How to improve their efficacy is a question that needs to be considered by scientists around the world," he told the paper.

He added that his earlier admission that Chinese vaccines had a low protection rate were a "complete misunderstanding".

Mr Gao's original and later comments have been largely unreported by Chinese media.

His original comments however, attracted some criticism on social media site Weibo, with commenters suggesting that he should "stop talking".

What do we know about Chinese vaccines?

With little data released internationally, the effectiveness of the various Chinese vaccines has long been uncertain.

Brazilian trials of the Sinovac vaccine CoronaVac for instance, showed an efficacy rate of around 50.4%, which is barely over the 50% threshold needed for regulatory approval by the World Health Organization (WHO).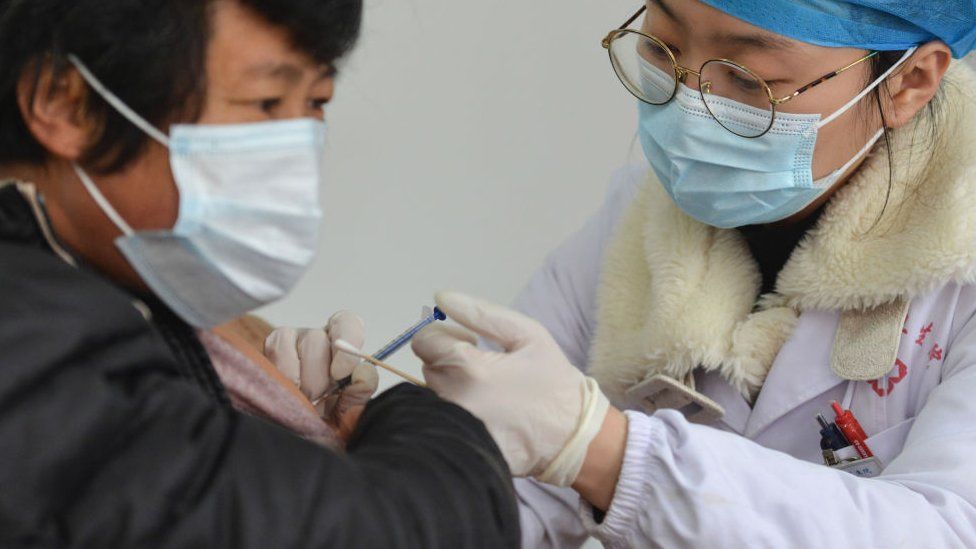 Interim results from late-stage trials in Turkey and Indonesia however, had suggested the efficacy rate of the Sinovac shot to be between 91% and 65%.

Western vaccines like the ones by BioNTech/Pfizer, Moderna have an efficacy rate of around 90% or higher while the UK's AstraZeneca jab is thought to be around 76%.

Which countries are using it?

So far, Sinovac's CoronaVac jab has only been fully authorised for use by China.

But Beijing is also offering its vaccines around the world and has already shipped millions of doses to a number of countries.

In Asia, the biggest takers are Indonesia, Malaysia, the Philippines, Thailand and Pakistan, while in the Americas, Brazil, Mexico, Chile, Colombia and Ecuador have also ordered millions of shot.

In Europe, Turkey and Ukraine have signed large contracts for CoronaVac.

The vaccine is thought to be particularly important for African countries where so far Zimbabwe, Somalia, Djibouti, Benin and Tunisia have received vaccines from China.

How are they different from other vaccines?

China's vaccines though differ significantly from some vaccines, especially those developed by Pfizer and Moderna.

Developed in a more traditional way, they are so-called inactivated vaccines which means they use killed viral particles to expose the immune system to the virus without risking a serious disease response.

By comparison, the BioNtech/Pfizer and Moderna vaccines are mRNA vaccines. This means part of the coronavirus' genetic code is injected into the body, training the immune system how to respond.

The UK's AstraZeneca vaccine is yet another type of vaccine where a version of a common cold virus from chimpanzees is modified to contain genetic material shared by the coronavirus. Once injected, it teaches the immune system how to fight the real virus.

One significant advantage of the Chinese vaccines is that they can be stored in standard refrigerators at 2-8 degrees Celsius. Moderna's vaccine needs to be stored at -20C and Pfizer's vaccine at -70C.

The AstraZeneca vaccine though can also be stored at normal refrigerator temperatures.