A lot positives in the NHS, no doubt about it. What is also true about the NHS is that it has plenty of scandals and the usual excuses of "lack of money or staff" doesn't cut it.
Mistakes can happen but one is too many, especially when your life is on the line. An independent review found that 84 children were infected with rare bacteria while undergoing treatment, with a third suffering a severe health impact.
We shut down everything for COVID for the sake of saving one life – odd that we don't take any drastic action when it comes to our failings in the NHS. "Learning from our mistakes" is code for "we f*cked up and we're never gonna learn".
A mother has called for health officials to resign after learning her daughter's infection was "probably" caused by the hospital environment.

Milly Main, 10, was being treated at the Royal Hospital for Children when she became critically ill and died in August 2017.

Milly's case review has now been shared with her parents.

Her mother Kimberly Darroch told BBC Scotland: "It is devastating to know that she should still be here."

NHS Greater Glasgow and Clyde has apologised for the distress caused.

The schoolgirl was one of 84 children who were infected with rare bacteria while undergoing treatment, with a third of them suffering a severe health impact.

Milly had a successful stem cell transplant in July 2017 while she was in remission from leukaemia.

She was making a good recovery when her Hickman line, a catheter used to administer drugs, became infected.

Milly's condition deteriorated and she went into toxic shock. She died on 31 August 2017.

Ms Darroch said she put her trust in the hospital and criticised the fact the infections only came to light due to whistleblowers.

Apology 'not enough'

The first she became aware of the Stenotrophomonas infection was when she saw it mentioned as a possible contributing factor on the death certificate, and only began to realise the significance when a children's ward was closed to new admissions.

She now wants a fatal accident inquiry to be held into her daughter's death and has called on the NHS Greater Glasgow and Clyde board to resign.

Ms Darroch, who believes the infection came from the water supply, added: "An apology is not enough. Milly lost her life and a lot of other kids suffered through this.

"Milly was getting better then she contracted an infection from the hospital environment."

Following on from the independent review published in March which identified serious failing in infection prevention, her family have now been presented with the findings of an independent expert panel.

It concluded: "Based on the information available to us we considered that this infection was probably related to the hospital environment."

A section which considers the impact in relation to the infection notes it is "difficult to say" how much it contributed to her Milly's overall deterioration.

But it continues: "On balance, however, we believe the Stenotrophomonas must have made a contribution, and this seems to have been the view of the doctors treating her at the time as both the PICU records and death certificate include references to this.

"It seems entirely possible that the Stenotrophomonas caused a critical further deterioration in heart function even if other causes (such as the adenovirus infection and previous damage from chemotherapy and radiotherapy) could also be relevant."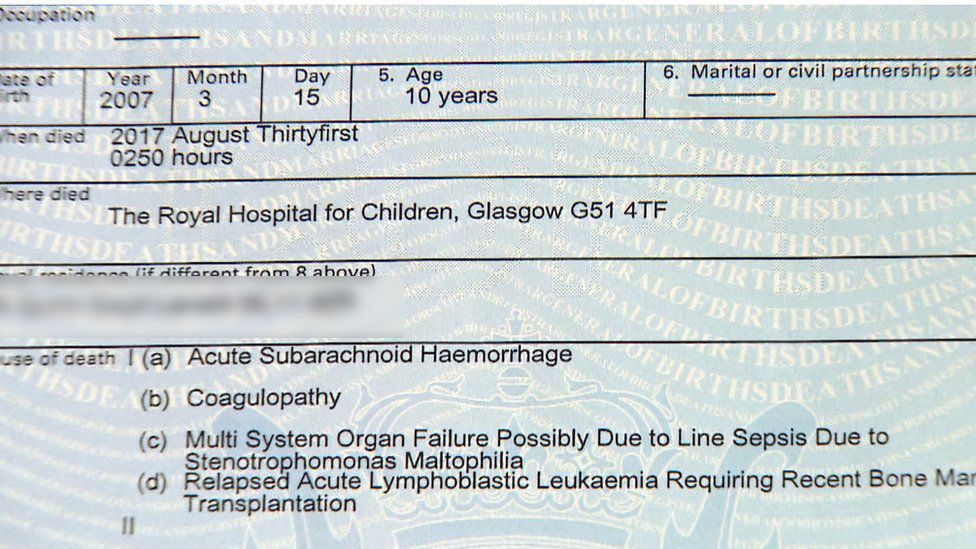 Ms Darroch said the loss of her daughter has left her "totally heartbroken".

She added: "I don't have the words to describe how it feels. She was my little soulmate. We were always together."

Ms Darroch recalled watching a TV documentary about the hospital which featured the death of a young boy.

She said: "I promised Milly that she would not die because I had every faith that she would not.

"Looking back now I think 'How must she have been feeling at the time?'"

'Truly sorry'

Jane Grant, the chief executive of NHS Greater Glasgow and Clyde, said: "We continue to offer our sympathies to Milly Main's family for their loss and are sorry for any additional distress caused.

"This has been a very challenging time for patients, families and staff and I am truly sorry for this.

"For families, children and young people, undergoing cancer treatment is already an incredibly difficult situation and I am sorry for any further upset they have experienced.

"Whilst we have taken robust and focused action to respond to issues, and at all times have made the best judgments we could, we accept that there are times when we should have done things differently."

Last year Health Secretary Jeane Freeman launched a public inquiry into issues with the construction of the Royal Hospital for Children and Young People in Edinburgh and problems at the Queen Elizabeth University Hospital campus.

Ms Grant added: "The issues which arise will be part of the Scottish Hospitals Public Inquiry. The board welcomes the inquiry and will participate fully in that process.

"We remain committed to supporting patients and their families, particularly those whose lives have been impacted upon by the areas that will be examined by the public inquiry."